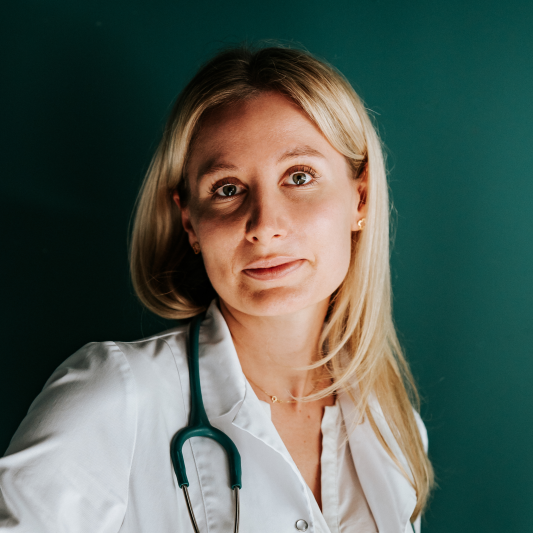 DVM, PhD
She graduated from the Faculty of Veterinary Medicine in Warsaw in 2016 and completed numerous internships abroad, gaining clinical experience, among others, in Germany – Tierarztliche Klinik Gessertshausen, the Czech Republic – University of Veterinary and Pharmaceutical Science – Small Animal Clinic, Brno and the Sultanate of Oman – Al Qurum Veterinary Clinic. Already during her studies she has actively practiced at 24-hour hospitals, which allowed her to gain experience in emergency medicine.
She took her first steps in veterinary oncology during doctoral studies at the Integrated Doctoral School of the National Leading Scientific Center KNOW, which she completed in 2019 defending her doctoral thesis entitled "Molecular mechanism of myoprotective action of geranylgeraniol in cellular model of statin-associated myopathy".
As a veterinarian, she has a unique opportunity to participate in comparative oncology research, transferring the latest reports of human medicine to the field of veterinary medicine, with the ultimate goal of transforming cancer from a life-threatening condition into a manageable chronic condition that guarantees comfortable functioning for patients.
The knowledge provided by her daily work in the molecular biology laboratory allows her to fully understand the complexity of the processes taking place in the body of oncology patients. Veterinary oncology and molecular biology are her greatest passion. Being a member of the European Society of Veterinary Oncology (ESVONC), she constantly expands her knowledge and experience by participating in training and courses, thus trying to provide her patients with the best care and access to the latest oncology therapies.